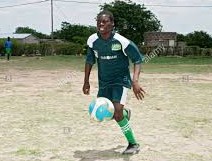 'Your son is suffering from intestinal obstruction' Dr Emeka informed Mrs Orji who some 30 minutes ago returned from Oyingbo market where she sells second-hand clothes' when her son,  Junior, a 16 years old boy was rushed home from the football pitch where he was practising football with his teammates and Coach. His Coach explained that while Junior as the Captain and main striker of his team was at the verge of scoring a goal he suddenly clasped his tummy and slumped to the ground.
Dr Emeka further explained that intestinal obstruction is the complete arrest of the passage of contents through the intestine due to pathology that causes blockage of the bowel. The doctors prescribed that some further tests which will cost N8,500 was needed to be conducted on Junior but the mother had no money to fund the test hence the boy was left on the sick bed agonizing in pain while his stomach protrudes each passing day. The hospital's social worker called on Health Emergency Initiative (HEI) and we swiftly responded with the provision of money for the tests and drugs that Junior needed. After two weeks of care and treatment sponsored by HEI at the hospital, Junior was discharged from the hospital.
Health Emergency Initiative is committed to helping indigents patients pay their hospital bills thereby saving lives and retain beautiful dreams for fulfillment. You are cheerfully welcome to join us in saving lives either through donation or volunteer.