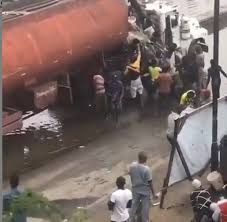 October is National Fire Safety Month and safety is everyone's business no matter what you do, it is important that you consider the safety effect of your actions and inaction.
Some days ago, a video went viral showing residents of Mile 2 scooping petrol from a petrol tanker. This could have resulted to a deadly explosion but for the intervention of Lagos State Fire Service's use of chemicals to neutralize the fuel that was spilled on the road.
Thankfully, a disaster was averted in Mile 2 Lagos but yesterday,16th October 2019, the residents of Ochanja, Onitsha Anambra state were not so lucky.  A petrol tanker laden with petrol lost control and veered off the service lane. The tanker fell from the vehicle, spilled its content and went up in flames. Unbelievably, some people were seen scooping petrol from the gutters while the fire intensified and gutted over 500 lock-up shops leading to loss of lives and properties.
This tragic loss could have been averted if everyone was diligently conscious of safety and some residents did not yield to the temptation of scooping spilled petrol. It is high time we  stayed alert and logically deal with situations to avoid disasters.
TIPS TO AVOID FIRE OUTBREAK FROM PETROL SPILL
Call emergency responders for help
Stay calm; don't panic so you can effectively take safety precautions.
Inform people that are around the accident's scene about the state of accident and how they can help to prevent a looming fire outbreak
Control sources of fire ignition around the accident scene
Restrict access to the accident scene until emergency responders arrive.
Health Emergency Initiative as a not- for- profit organisation that upholds and work THAT NONE SHOULD DIE sympathizes with victims of the Onitsha fire incident however we implore that all hands should be on deck to avert emergencies and effectively manage situations to prevent loss of lives and their beautiful dreams.
You are always welcome to EMERGE with us as a donor or volunteer in the noble quest of EMERGING in emergencies and providing succour to indigent patients.