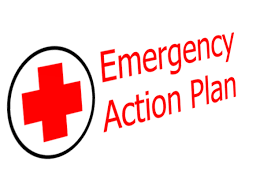 Welcome to a brand new work week!
Suddenness is a feature of emergency which can happen anytime and anywhere including the workplace. Hence, employers and workers may be required to deal with an emergency and the best way to protect workers is to strategically develop an emergency action plan to guide everyone in the workplace when emergency occurs.
A workplace emergency is an unpleasant or endangering situation that threatens workers, customers or the public's well being, disrupts or shuts down operations, causes physical or environmental damage.
Emergency Action Plan (EAP) is needed to actively combat emergency in the workplace. An EAP stipulates designated actions that employers and employees must follow through to ensure safety of everyone at the workplace from emergencies. A comprehensive EAP that deals with all types of issues specific to your work site is recommended.
When developing your Emergency Action Plan (EAP), it is recommended that you look at a wide variety of  potential emergencies that could occur in your workplace. EAP should be designed to suit to your workplace and include information about all potential sources of emergencies. Developing an EAP means you should do a hazard assessment to determine what emergency occurrence in your workplaces could cause.
 Emergency Action Plan should include:
A preferred method for reporting emergencies, call emergency responders
An evacuation policy and procedure if needed
Emergency escape procedures and route assignments, such as floor plans, workplace maps and safe or refuge areas
Designation of rescue and first aid/responders duties to some workers
Designation of an assembly location and procedures to account for all employees after an evacuation
Educate workers about the types of emergencies that may occur and train them in the proper course of action.
Clearly identify and communicate to workers specifically who will be in charge during an emergency to minimize confusion
Health Emergency Initiative upholds that NONE SHOULD DIE hence we are on a pursuit of equipping individuals, workers in organisations the lifesaving knowledge and skills of a certified First Responder. You are welcome to EMERGE with us as a donor or volunteer. Have a safe week.