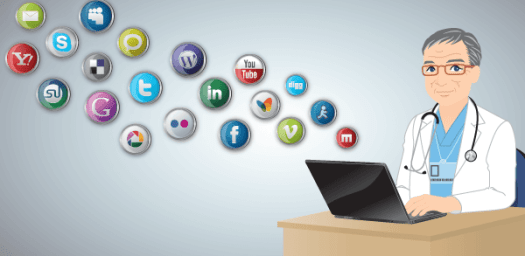 "The power of social media for spreading information and creating a community is undeniable and it has proven to be a valuable tool in the healthcare system" 
Using internetlivestats, we can deduce that number of active internet users is on the daily on the rise. There is an indication that the growth of the internet affords the healthcare system to maximize the opportunities of social media.
Channels through which the social media can be used by the healthcare system are:
Combat misinformation and educate: Social media by their very nature help spread information quickly to diverse group of people. This happens when the information is fact-based, helpful and clear. It thrives on transparency and trust.
Raise awareness and build authority by educating: Sometimes, raising awareness is as simple as reminding followers of common sense health practices or addressing common healthy living concerns.
Crisis communication: A consistent, reliable voice is a critical resource for everyone in times of crisis. Build campaigns that can educate people on a particular illness.
Answering common questions: Social media offer creative ways for healthcare professionals to address common questions/frequently asked questions. Bots can also be used in the hospitals to answer questions, troubleshoot certain illness by getting people to ask questions, automatic answers /potential suggestions to help them out.
Public health monitoring: People post about everything online including their health. The use of hashtags like #flu can indicate when diseases are coming up in new locations. Public health organizations can even get a sense of the severity of symptoms.
Patient Support: People have used online tools to connect with others who have similar health challenges. People find it easier to connect with people with similar illnesses. Health organizations can create a forum so that Q&A can be explored. People tend to use Google to ask about the symptoms that they are having and are led into a forum seeking solution.
Covid-19 was a perfect example of how people made use of social media to express the symptoms they had.
Fund raising: Social media is a powerful tool for fundraising but people have to see transparency and trust. NGO and patients are using social media to raise funds for medical interventions. People should be encouraged to share HEI posts on social media. For instance, HEI can make social media post to express the need for funds of some patients in the hospital who need medical intervention.
Influence healthcare policy: People use social media to influence healthcare policy by making protest go viral and get the attention of policy makers or government.
It was recommended that Twitter and Instagram should be explored for more effective reaching out to the target audience.
HEI as a nonprofit organisation has actively been making use of the social media to help drive for impacts in Nigeria's healthcare system and we would appreciate your reposts, shares and comments of HEI's posts across social media platform as a means of supporting the drive for impacts in Nigeria's healthcare system.
P.S: This is an excerpt of HEI's webinar lecture by Tobi Asehinde, CEO Digital Marketing Skills Institute