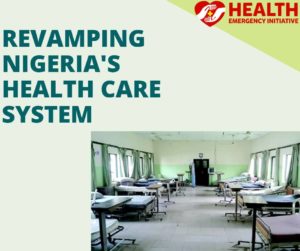 Health is no respecter of persons.
"Our dad was sick around 9-10 pm, we rushed him to the Teaching Hospital. To my surprise, we couldn't find a single doctor. None of the consultants was around. Once they tell them a patient is around, they disappear thinking such person is a Covid 19 patient. We couldn't get a bed, we couldn't get even first aid.
We had to rush him to a private hospital, when we got there, there were no facilities, we could only get a glucose drip to revive him. We couldn't get oxygen and he needed oxygen. We went to another hospital where we got oxygen but the cylinder was leaking.
We had to watch him…. The next day we had to contact someone in government who called for a primary health care ambulance, a brand new ambulance with no paramedic, not even for first aid. The second one which had an incomplete oxygen cylinder and a broken bed came later. We were later referred to the University of Maiduguri Teaching Hospital with a referral note for his admission which they refused.
The state commissioner for health had to intervene. Although, the health workers were scared because they don't have protective equipment. They didn't even have face masks. One of them even asked me if I had face mask. There is a problem, if somebody of my father's status can not access primary health for first aid, then I pity the common man". This is the narrative of Umar Goni, a son of Former Civilian governor of Borno state Muhammad Goni who recently fell ill."

We are in times where both the 'haves' and the 'have nots' in the country are subjected to the health care system that we failed to build. With nowhere to run to, every member of the society is saddled with the responsibility of revamping the health care system.
Over the years, Nigeria has paid little attention to the health care system neglecting Primary Health Care (PHC) which is the foundation of Nigeria National Health System. Recent survey shows that common preventable diseases such as malaria, diarrhoea and malnutrition are major causes of morbidity and mortality in Nigeria's population. Yet, the health sector has been disregarded and primary health care has been relegated to the background especially in this time when Covid-19 cases has been prioritized over non Covid-19 related medical cases.
This is the time for public and private bodies to collaboratively invest in the health sector and a good way to start is investing in the effective process of the primary healthcare system. Support HEI to strengthen and revitalize primary healthcare (PHC) in Nigeria. Let's do this! We can do this!