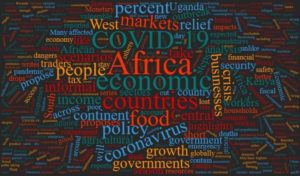 Covid-19 is a global health pandemic that has impacted every sphere of humanity across the world. Nigeria as a country is not excluded from the effects of times like this. Some of the effects of Covid-19 in Nigeria are:
Medical effect: Increased deaths arising from halt of non-Covid related health systems and functions and spread of false information.
Psychological effects: There are rising cases of domestic violence as women and children are forced to stay at home with their abusers during the lockdown.
Social Effects: The Nigerian society has been facing civil unrest, local stigmatisation of foreigners and Lagosians as carriers of Covid-19, disruption of social events and politicisation of the pandemic, unequal distribution of palliatives.
Economic Effects: Loss of revenue by some business sectors such as aviation and petroleum industry, increased gap between the rich and poor, inflation and reduction in national monetary and foreign reserves.
Physical effects: Construction of infrastructures such as roads, bridges have halted
Educational Effects: Halt of WAEC/NECO exams
Sports: Postponement of 20th National Sports Festival
Judicial sector: Hearing of cases and litigations are halted.
Transportation sector, agriculture sector and every other sector are inter-dependent on one another to effectively function. Variably, every sector of the Nigerian nation is affected by the Covid-19 pandemic
Nigeria's Response in Fighting Covid-19
The Nigerian Emergency Operation Centre developed an incident action plan. This includes:
Country level coordination: A presidential taskforce was set-up and different major representatives across all sectors were involved. This taskforce supports states to
Setup their Public Health Emergency Operations Centre for coordination at state level,
Capacity assessment and risk analysis,
Monitor implementation of country and state response plan,
Review regulatory requirement and legal basic measures of public health measures,
Establish incident management team and rapid deployment of response teams,
Engaging with local donors to mobilise and allocate resources.
Risk communication and community engagement: This entails the use of
Social influencers and effective community communication in the grass root,
Conduct of house-to-house and facility case surveillance,
Community engagement for social and behaviour change,
Adverts and published IEC materials amongst others.
Surveillance rapid response team and case investigation: This involves
Case based reporting,
Production and dissemination of weekly epidemiological reports,
Leveraged on existing health system to train rapid response in order to investigate case and cluster outbreaks and carry out contact tracing.
Points of entry:
Point of entry public health emergency plan was developed and implemented,
Communication of  Covid-19 information to travelers,
Primary and secondary screening.
National laboratories: Here, testing capacity was established and expanded.
Infection prevention and control:
Training health workers on how they can safely wear PPE and prevent non-covid-19 patients from contracting covid-19,
Distribution of Standard Operation Programme (SOP) in order to serve as guide to the health workers.
Case management:
Set-up of Infectious Disease Hospital,
Ongoing clinical trial
Availability of items to treat patients with complicated issues.
Operation and logistics support:
Ensure effective procurement and distribution of Personal Protective Equipment (PPE)
Rapid deployment of medical items to some states in order to help them in the fight against Covid-19.
Planning and monitoring:
It is important to note that the use of rapid test kit is discouraged or not use in Nigeria because it the test results have high tendency of giving false information
Challenges:
Inadequate social protection and insurance systems. This has brought about suggestions that Nigeria might need to explore other options of curtailing the Covid-19 than quarantine measure.
Testing: Inadequate/low rate of testing. This affects the accuracy of data, producing factual data but not in real time.
Physical distancing: The poor might not be able to cope with the physical distancing measure.
Falsity of information: Spread of false information that causes people to disregard control measure or panic unnecessarily.
The Nigerian response has been helpful so far and despite the challenges, there have been help/donations from people and organisations like HEI to help in the fight against Covid-19. Nigeria may not have reached her peak of Covid-19 contract yet. However we hope that the curve will decline in few days to come.
The article is an extract of the webinar lecture delivered by Dr. Igwilo Ugonnaya Ugochinyere, Public Health Physician on the topic The Effect of Covid-19 and Emergency Response in Nigeria