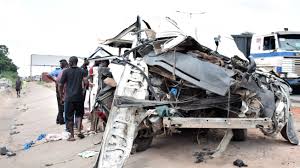 A ghastly road traffic accident occurred last week Friday when a trailer rammed into buses at Otedola Bridge close to Berger. Commuters were trapped inside the buses while people hurriedly made frantic efforts to help but it was not close to being effective. Though they had good intentions, these good Samaritans are not trained First Responders, Paramedics or Health Personnel. They could not effectively rescue the accident victims thereby leaving the victims with the probability of suffering more damage.
In most advanced countries people learn First Aid as part of their driving test, this does not happen in Nigeria and it is therefore more than likely that drivers or road users will not be equipped with the necessary skills to help during an accident. It is strongly recommended that all road users should have basic first aid supplies with them.
Here, we provide a step by step guide on how you can help rescue road accident victims at an accident scene:
When approaching an accident scene, it is important to ensure your own safety. Make sure that all traffic has stopped, and it is flagged that there has been an accident otherwise there may be additional casualties.
If there is any fuel spillage or potential fire risk, turn off car ignitions. Put on vehicle hazard lights and use a warning triangle if there is one available.
If other people are around; get them to phone the emergency services
Quickly establish how many vehicles have been involved and assess the occupants of all the vehicles
Support the head and neck to avoid them twisting. Do not cover their ears, keeping talking to them calmly and keep checking that they are still breathing
Only remove an unconscious person from a vehicle if there is an immediate danger to their lifefrom fire, flood, and explosion.
Conscious casualties should be entrusted to the care of bystanders and removed from the wreckage to a safe area. Be aware of confused and dazed casualties who may wander into danger. Brief the bystanders to keep the casualties warm and calm and help them to contact next of kin.
If a motorcyclist is involved only remove their helmet if they are unconscious and there is no other way to assess their breathing or their airway is in danger. There is usually a way of lifting the visor, it may be sensible to loosen their chin strap.
If a casualty has been hit by a car and they are lying on their back unconscious and breathing – they should be carefully rolled into the recovery position to keep their spine in line. This should ideally be done with the support of others to avoid twisting the spine.
Being a certified First Responder is a necessary survival skill that its goodness is not just limited to you. Sign up for a First Responders Training today or sponsor your colleagues, family, and friends to attend the training. Join HEI to train more First Responders, we look forward to having more First Responders in the Nigerian society thereby saving more lives.