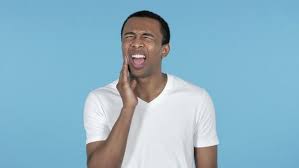 If you've ever had a toothache or any issues with your dentition, you will understand the excruciating pain of a 29 years old man who was diagnosed of ameloblastoma to the right mandible at Federal Medical Centre Ebute-Metta and he needed surgery.
As severe as the pain was, there was no money to treat the patient. The young man kept writhing in pain. In Taiye's pitiable state, a social worker introduced Taiye to HEI for possible intervention. HEI stepped in "THAT NONE SHOULD DIE" and paid for Taiye's ameloblastoma surgery and further treatment at the hospital. Surgery was successful and Taiye is fully recovered now.
Ameloblastoma is a rare kind of tumour that begins in the jaw, often near the molars. It is made from cells that form the enamel that protects your teeth.
The tumour can cause pain or swelling and can deform the face. If it goes untreated for a long time, it may become cancerous and spread to the lymph nodes or lungs. Adults within the ages of 30-60 are often patients of ameloblastoma.
Symptoms
Tumour Growth: The tumour often grows slowly over many months or even years producing a swelling in the back of your jaw.  It can also lead to tooth or jaw pain.While in rare situations, ameloblastoma grows quickly and painfully. It can uproot and move the teeth. It can also can spread to the nose, eye socket or skull. They can grow so large that they block the airway, make  it difficult to open and close the mouth and affect the food intake.
Some patients of ameloblastoma don't have any symptoms. It's diagnosed when they have an imaging scan.
Causes
Ameloblastomas are more common in men than in women, and certain genes seem to play a role.
An injury in the jaw or an infection in the mouth might also increase the risk of infection.
Also it can be caused by viruses or a lack of protein and minerals in diet.
Treatment
Non-cancerous ameloblastomas are usually treated with surgery.
Rehabilitation will be needed to learn how to smile and chew again.
Consistent check-up is highly recommended inorder to quickly detect a re-growth of the tumour. If a tumour does come back, it's more likely to cancerous.
HEI's medical interventions have helped preserve the hopes of living for many people and helped save beautiful dreams. We uphold THAT NONE SHOULD DIE so we stay faithfully committed to helping others stay active and alive. Join us in this call to keep saving lives through provision of swift funds to indigent/vulnerable patients, give to Project 1 million.