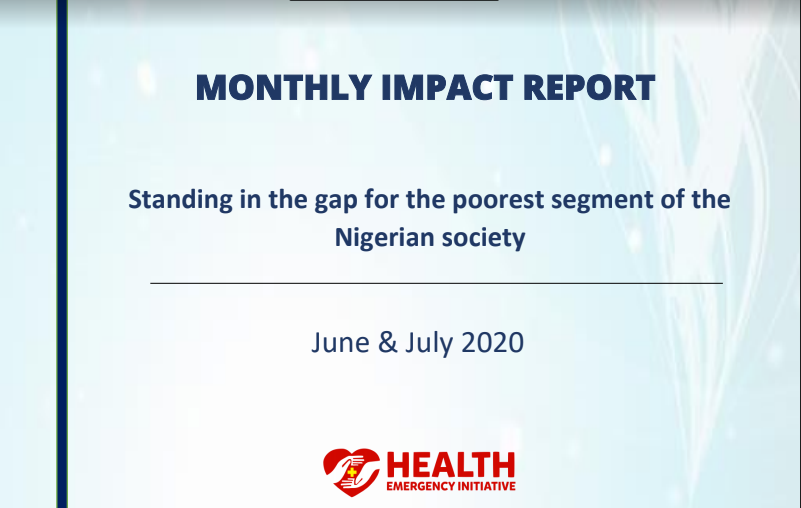 Oh, the joy of fulfillment of timeless impact!!!
At HEI , we are excited to take lifesaving leaps and bounds in this new month as we work to save more lives, prevent needless deaths and ultimately enhance people's chances of living to fulfil their beautiful dreams.
Last month, July 2020 was a great month for us, and the many lives that were impacted by the different lifesaving strides that we (HEI) embarked on. We had remarkable mileage in Medical Intervention, Post-Crash Care, PPE Donation and Increase of Lifesaving Partners.
MEDICAL INTERVENTION
In the mission of saving lives, HEI provided financial medical assistance to 22 indigent patients in 10 public hospitals with the expenditure of N311, 700. We are glad to record 95% survival rate of the medical interventions beneficiaries.
POST CRASH CARE
For post-crash care, HEI was able to provide assistance to 3 road traffic accident victims in 2 public hospitals incurring expenditure of N52,700 and with the joy of fulfilment we have 100% survival rate after the post-crash care intervention.
Presently, both the medical interventions and post-crash care programs are being funded by Sterling Bank Plc and other individual lifesaving partners.
PPE DONATION
In April 2020, HEI launched an emergency trust fund to provide personal protective equipment (PPE) to health workers in public hospitals. The goal is to raise N10 million Naira through the emergency trust fund; presently N2.8 million Naira has been raised. This PPE donation exercise through the funds generated has made PPE available to 420 health workers in 8 isolation centres. This project has been supported by four corporate organisations; Cititrust Holdings Plc, Air Liquide,  Ishk Tolaram Foundation, FBN Quest and over 40 individual donors.
INCREASE OF LIFESAVING PARTNERS
Finally, HEI as a non-profit organisation recorded addition of over 20 individual lifesaving partners to our ever supportive, generous team of lifesaving partners (corporate and individual partners).
Kindly click here for a more detailed report of HEI's activities from June-July 2020.
Health Emergency Initiative appreciates everyone who has contributed to the success story of HEI's lifesaving mission in the month of July, 2020. We look forward to stretching further to save more lives from needless deaths and increase people's chances of stay alive to fulfil their beautiful dreams.
You are welcome to support HEI's lifesaving mission, click on the link or make bank transfer to
GTBank Plc
Account Name: Health Emergency Initiative
Account Number: 0396680858
Thank you for choosing to EMERGE with Health Emergency Initiative (HEI) to save more lives.