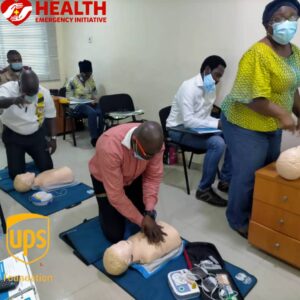 What do you know about the code of humanity?

Ajibade Babalade, a member of the Nigeria's Super Eagles, who won a bronze medal at the 1992 Africa Cup of Nations in Senegalis is dead. The ex-Super Eagle who turned 48-years-old on the 29th of March died of cardiac arrest on Friday, September 4, 2020, in Ibadan, Oyo State.

Ajibade was rushed to the University College Hospital, Ibadan, but he did not survive because he was allegedly rejected at the hospital.The presence of an effective First Responder (this can be anybody) and lifesaving emergency operations in our health system could have helped perform CPR for the late footballer and doubly increase his chances of survival.

As sad as this story is, we daily have more death cases such as the above mentioned story where we keep losing lives that could have been prevented from dying as a result of lack of effective emergency response structures.

The Nigerian society seems to have lost sense of priority during emergencies. For instance, the demand of police report or deposit at the hospital before providing medical attention to emergency victim(s) is totally inhumane. We also have the frenzy of video recording for social media post as against the noble rescue attempt of emergency victims by onlookers.

Some will ask 'How did we get here?' While some will keep going round the cycle of blame shifting. HEI recognizes that talking alone does not actively proffer any solution, so we decided to walk the talk and go further to equipping people with the needed lifesaving training. This will not only empower people with the needed lifesaving skills but it will also enhance the change of mindset, attitude and narrative to being a valid and valuable lifesaver.

This birthed the First Responders Training organised by Health Emergency Initiative(HEI) in 2019. Presently, HEI has trained over 130 First Responders and we are currently training more people. The participants of this lifesaving training include but not limited to: Police Officers, VIS Officers, LASTMA, FRSC officers, Corp members, Federal Fire Service, Lagos State Fire Service, and officials in other public. This batch of Lifesaving First Responders Training is sponsored by United Parcel Services Foundation.
Health Emergency Initiative (HEI) has identified that emergency preparedness is the solution to practically rescuing and saving lives during emergency. Nigeria, as an organised society needs policies that will help to rightly prioritise reactions during emergency. We need enforcement of these policies so that we can be true to the code of humanity of giving a helping hand to people when needed.
C'mon partner with HEI and let's activate the code of humanity together. Register for HEI's first Responders Training, sponsor the people in your space to participate in this First Responders Training. You can also support the provision of medical interventions to indigent patients and swift provision of post crash care to emergency victims.
Click here to donate.

"If you're in the luckiest one per cent of humanity, you owe it to the rest of humanity to think about the other 99 per cent."
― Warren Buffett