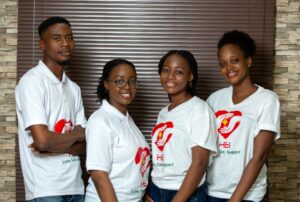 They say youth are leaders of tomorrow but at Health Emergency Initiative (HEI), we believe that youths are leaders of now so we embrace the involvement of youths in our programs. Apart from equipping them with the lifesaving First Responders skills, in November 2019, we also had a medical awareness outreach in partnership with National Youth Service Corps (NYSC).
To further enhance youths' involvement in HEI's lifesaving program, youths with the gusto to serve humanity and impact the world were selected as HEI as HEI Ambassadors thereby launching the HEI Youth Hub. At HEI Youth Hub, youths are equipped with relevant skills that they need to make impacts in their community. HEI Youth Hub is a community for like-minded young persons focused on contributing their quota to the development of the world.
Each year, almost 400,000 young people under 25 years old are killed in a road traffic crash – about 1049 youngsters every day. Most of these tragic deaths occur in low- and middle-income countries, particularly among pedestrians, cyclists, motorcyclists and those using public transport.
With a youth dominated population, it is sad to know that the rate of emergency treatment for youths doubles that of other age range in public hospitals in Nigeria. This necessitates the need to strategically include young people in lifesaving programs in different capacities to enhance the survival and safety of the hope bearers (youths) in our society.
HEI Youth Hub is open to every young person from 18 years old who is interested in enhancing the effectiveness of the health system in Nigeria, help to save lives and make the world a better place. To join HEI Youth hub, kindly click here
To support HEI's lifesaving programs via donations please click here.