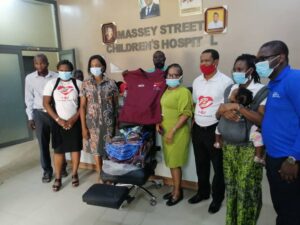 It's the season of giving
Couple of weeks ago, one of HEI's distinguished partners, Digital Marketing Skills Institute in partnership with HEI donated 24 scrubs for nurses and a blood donation massaging chair to Massey Children Hospital, Lagos Island. During the visit at the hospital, 3 indigent children were also assisted on the spot by Digital Marketing Skills Institute (DMSI).
If you have visited hospital in recent times, you willunderstand the weight of health challenges a lot of people face in a country like Nigeria. And with the second wave of Covid-19, the health sector needs more than a handful of help.
Communicable and infectious diseases are the major health problems in Nigeria as research revealed that the top causes of death in Nigeria are; malaria, lower respiratory infections, HIV/AIDS, diarrheal diseases, road injuries, protein-energy malnutrition, cancer, meningitis, stroke and tuberculosis.
During the visit, HEI team observed that 70% of children in the wards was adversely malnourished and they were diagnosed with illnesses that could have been prevented from the outset in the presence of adequate medical care and attention.
Seeing malnourished children on hospital beds, one would have thought that this only happens in Somalia or South Sudan at the level of malnutrition.
Malnutrition is a direct or underlying cause of 45 percent of all deaths of under-five children and Nigeria has the second highest burden of stunted children in the world, with a national prevalence rate of 32 percent of children under five.
Reports revealed that exclusive breastfeeding rates have not improved significantly over the past decade, with only 17 percent of babies are being exclusively breastfed during their first six months of life.18 percent of children aged 6-23 months are privileged to have the minimum acceptable diet.
This calls for nutrition –sensitive interventions geared towards addressing long-term nutrition interventions that addresses stunting and Severe Acute Malnutrition (SAM).
Christmas is here and in a giving season like this, HEI encourages giving strides to help provide nutrition needs to the less- privileged in our society. We are all we have to live and thrive, Click here let's make this Christmas for us all.
For further enquiry and participation, please call 070639858777 or send email to info@hei.org.ng.