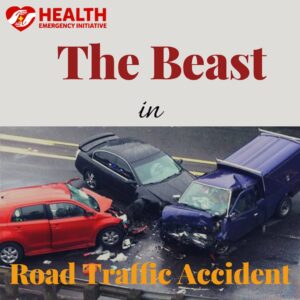 Road traffic accident is still a threat to young people in Africa.
While the news of Joe Biden's election as the president of America raved the air, the sad story of Football legend Samuel Eto's involvement in an accident and the fatal accident involving 2 Zimbabwean celebrities could not be ignored.
These just tells that life is a mix of the good, bad, ugly and a reminder that each moment of living is a blessing that should not be underplayed or taken for granted.
Following the story of road crash involving the Zimbabweans, it is important to re-emphasise that safety should be everyone's priority at all times.
Emergency/accident is never a respecter of persons, so chances should not be taken to undermine safety measures anywhere at any time. Road traffic crashes are a routine occurrence on roads throughout the world. Thousands of people lose their lives on the roads every day.
As a result of these accidents, millions of people are left with disabilities or emotional scars that they will carry for the rest of their lives. Every hour of every day, forty youngsters die as a result of road traffic crashes. This means that every day another one thousand families have to cope with the unexpected loss of a dear young person.
Over the past 5 years, Health Emergency Initiative (HEI) as a non-profit organisation has provided swift post crash care to road traffic accident victims. Hereby we realise that youth and children are often the victims of road traffic accidents.
Going further, we recognize that there are 2 main factors that influence the occurrence of road traffic accidents with youths as victims, these factors are :
Gender: From a young age, males are more likely to be involved in road traffic crashes than young females. Among drivers, young males under the age of 25 years are almost three times as likely to be killed as their female counterparts. This may reflect the fact that males are more likely to be on the roads, often because of socio-cultural reasons, as well as a greater propensity to take risks, compared.
Socio-economic: The socio-economic condition of a family affects the likelihood of a child or young adult being killed or injured in a road traffic crash, with those from economically poor backgrounds at greatest risk. This relationship is true not just between higher-income and lower-income countries, but within countries as well.
Most youths killed by traffic injuries however live in low-income countries They are often the vulnerable road users – pedestrians, cyclists, motorcyclists and passengers of private and public transport.
HEI works THAT NONE SHOULD DIE upholding the belief that every life is precious. Each person is naturally tasked with the responsibility to cherish every second of breathe and live impactfully.
At the end of it all, life is YOLO (you only live once), feel free to support HEI to save more accident victims' lives through timely post crash care and let's make impacts together. Click here to donate. With your support you could be saving your own life or that of your loved ones.