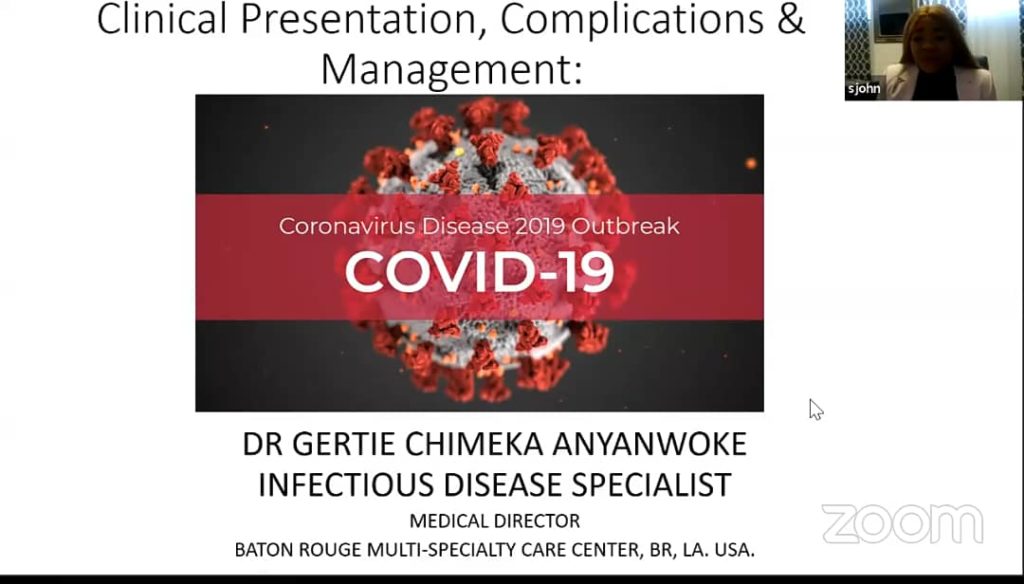 The clinical features in the treatment of Covid-19 includes the incubation period which is between 14 days usually 4-5 days after exposure. The spectrum of illness severity could be
No symptoms at all or
Mild symptoms while the
Severe illnesses
Critical illnesses
The death rate of Corona virus is high in comparison to other viruses. Meanwhile, some people that are more vulnerable to this virus are patients with chronic illnesses, severe obesity and old people.
Research has shown that more men are dying than women of corona virus while in the United States more black people are dying of Covid-19 than any other race, this findings maybe related to underlying socioeconomic disparities.
Particular Laboratory Features: These are associated with worse outcomes and includes:
Lymphopenia
Elevated liver enzymes
Elevated lactose dehydrogenase
Elevated inflammatory markers (e.g C-reactive protein, (CRP) ferritin)
Elevated prothrombin time(PT)
Acute kidney injury
Clinical Manifestations: This includes
Pneumonia,
Fever,
Fatigue,
Body aches.
Dry cough,
Shortness of breath,
Diarrhoea,
Stroke,
Heart attack,
Blood clots in the lungs andlegs,
Hypercoagulability: This refers tothickness of blood, inflammation which appears to be arterial. One of the reasons for hypercoagulability is the immobility of the patient
Testing
When patients are diagnosed to be Covid-19 postive, radiologic testing is carried out. The best testthat is recommended is the nasopharyngeal swab; and the test to be done here is called Sars –Cov 2 RNA. Other testing includes anti-body testing IGG,IGM, and IGA and the goal of testing is antigen testing.
Most patients of Covid-19 can recover without treatment. In any case that anyone feels the symptoms it is advisable to call a doctor, see if you can get tested. There is already a laboratory network setup by the NCDC. Meanwhile, the Nigerian society run the risk of public health problem if there are invalidated test that are giving results, hence authorities are re-evaluating the processes.
Treatment
Recommended treatment for Covid-19 patients includes the use of antibiotics with the combination of MVI, Vitamin C and Zinc, anti-inflammatory, VTE prophylaxis with LMW heparin while on admission.
However, some people have suggested that the prophylaxis doses should be increased.The turnaround time for testing should normally take 48 hours. The use of HCQ for treating Covid-19 is not stipulated as being reliable. Also, it is important to note that Vitamin D deficiency does not increase the chances of blacks being more susceptible to Corona Virus.
More so, symptomatic patients after being tested can go home and be properly managed by their doctors. They are put in self quarantine but if they cannot absolutely be in self quarantine then it is advised that everyone in the house should wear a mask. The wearing of mask reduces the chances of contracting the virus. Symptomatic patients should spend at least 14 days in isolation.
DIC Management
This should include the basic principles, such as
Treat the clinical picture resulting from the clot
Monitoring the anti-inflammatory markers
Outpatient DVT prophylaxis for at risk patients
No use of anti-fibriolynitics as they are usually contraindicated in DIC patients
A lot of therapies are under investigation
Cytokines treatment: None established for Covid-19 treatment yet
Narrowing it down to the Nigerian health care system, there are asymptomatic and symptomatic patients and it is recommended by the NCDC and medical experts that Nigerian society adhere to the control measures curtailing the spread of the corona virus.
For the Nigerian socio-economic stance to survive the Covid-19 outbreak, the economy might need to return to normalcy while behavioural change of wearing face masks, using hand sanitisers and washing of hands is maintained and there is provision of special care for the aged in the society. Further in this fight against Covid-19, support HEI in the provision of PPE to health workers in hospitals. Let history have it that you played your path in ensuring in that more lives are not lost in this Covid-19 pandemic.