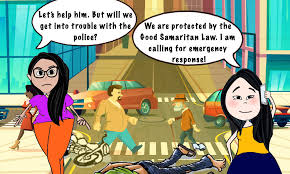 As commendable as it is to be a First Responder some people are afraid to function as a certified First Responder. Especially, in this part of the world, people that are willing or have ability to help in cases of emergencies are scared of getting into trouble as a result of assisting a vulnerable person in an emergency situation.
In order to allay this fear, it is good and important to know that there is "Good Samaritan Law" in developed countries. Good Samaritan law offers legal protection to people who give reasonable assistance to those who are, or whom they believe to be, injured, ill in emergency situations. This is important as seconds often count in an emergency and giving first aid before the ambulance arrives can be the difference in whether someone lives or dies.
Good Samaritan law take its name from the popular parable found in the Bible, which is commonly referred to as the Parable of the Good Samaritan. It recounts the aid given by a traveller from the area known as Samaria to another traveller of a conflicting religious and ethnic background who had been beaten and robbed by bandits.
Sadly, the Good Samaritan law is not applicable in Nigeria at the moment. This is due to the fact that the law does not impose an obligation on Nigerians to assist the vulnerable injured citizens. While the Nigerian law addresses punishment of those who inflict harm on others as well as serving as a deterrent to the public, it does not compel persons to do good or assist the unwell. However, the absence of Good Samaritan Law in Nigeria does not deprive Nigerians of the innate responsibility of being our brother's keeper.
While we hope that the Good Samaritan Law will be enacted as law in Nigeria very soon, it is important to note that being a certified First Responder is necessary in order to offer lifesaving help to emergencies' victims presently in Nigeria.
Common Examples of a Good Samaritan Scenario Might Include
Helping someone who is experiencing chest pains
Helping an injured who fell and hit their head on the sidewalk,
Assisting someone who is feeling dizzy or confused,
Good Samaritan assistance can be as simple as providing a blanket or calling emergency responders numbers such as 122,112 and 767.
Still in the pursuit of saving lives, Health Emergency Initiative (HEI) commences the second edition of First Responders Training today. You can't afford to be left out of this lifesaving emergence as your first response skills can help to save live(s) in emergencies. Register for the next batch of First Responders Training or you can sponsor individual(s) to be part of the next training.