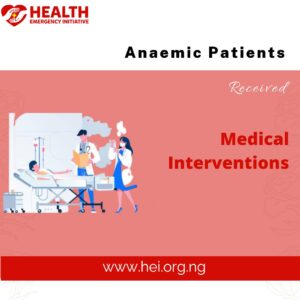 The prevalence of anaemia.
Pa David (not real name), an old man in his sixties was admitted to one of the public hospitals in Lagos with diagnosis of severe anaemia. He needed financial assistance to access further medical treatment but he nor his family members afford the needed funds. The medical social worker was informed and she consequently reached out to HEI's hospital officer for provision of medical interventions by swiftly providing funds for the purchase of drugs and laboratory tests needed for the old man's medical treatment.
Similarly, a 9-years old girl was diagnosed of severe anaemia. Due to lack of financial capacity for medical treatment, she was subjected to languishing in pain until HEI was alerted by the hospital's social worker for the need of medical intervention to help save the girl's life. Promptly, funds were provided to purchase the drugs that the girl needed for medical treatment.
These two patients are now out the woods of sickness and are better. Yes, these are real life testimonies/impacts of HEI's life saving medical interventions. In the past one month, Health Emergency Initiative (HEI) had provided several medical interventions to different people ranging from old to young, male to female.
Are you thinking 'What is Anaemia?' It is a condition in which one lack enough healthy red blood cells to carry adequate oxygen to your body's tissues. It makes one feel tired and weak. It can be temporary or long term, and it can range from mild to severe.
Here are some symptoms of Anaemia;
Fatigue
Weakness
Pale or yellowish skin
Irregular heartbeats
Shortness of breath
Dizziness or light-headedness
Chest pain
Cold hands and feet
Headaches
Left untreated, anaemia can cause many health problems, such as:
Severe fatigue: It can make you so tired that you can't complete everyday tasks.
Pregnancy complications: Pregnant women with foliate deficiency anaemia may be more likely to have complications, such as premature birth.
Heart problems: It can lead to a rapid or irregular heartbeat (arrhythmia). When one is anaemic the heart must pump more blood to make up for the lack of oxygen in the blood. This can lead to an enlarged heart or heart failure.
Death: Some inherited anaemia, such as sickle cell anaemia, can lead to life-threatening complications. Losing a lot of blood quickly results in acute, severe anaemia and can be fatal.
Anaemia is one of the primary health cases that need immediate and proper medical attention. There is more to be done in the provision of more medical interventions in order to save more lives. You are welcome to save lives with HEI by clicking here, call or chat 07063985777, send email to info@hei.org.ng