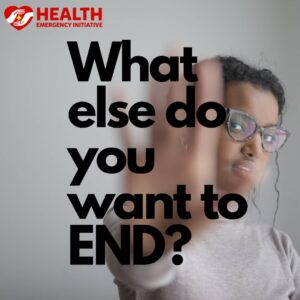 It has been an eventful week nationwide as the END SARS protest sweeps through different parts of the country. It is clear that Nigerians have been pushed to the wall and in recourse a unanimous protest seeking to stop police brutality and lawlessness unwaveringly happened.
There is no limit to the power of united voices standing up for the right course. As an organisation that works and prays for the good of Nigeria, HEI aligns with other well meaning Nigerians THAT NONE SHOULD DIE either in our health system or with regards to security and the lives of our young people.
While we are optimistic about the change that the END SARS protest has ignited so far, we also hope that some more positive and change igniting energy will be invested in the health sector by Nigerians.
Still in the course of saving more lives, HEI assisted 13 indigent patients in need of medical interventions last week and 40% of these beneficiaries were babies diagnosed with Sepsis.  It has been different episodes of sad experiences seeing how cases of lack of prompt medical treatment for indigent patients suffering from sepsis worsened to complicated medical issues.
If you are yet to join the NIP SEPSIS IN THE BUD CAMPAIGN, please do now. Use the code; *402*82289909*AMOUNT# or click here .
In the light of recent happenings, you can't afford to stay indifferent any longer. Lend your voice and support to positive, life-enhancing causes such as – NIP SEPSIS IN THE BUD campaign, use the USSD code; and tell a friend to tell a friend.