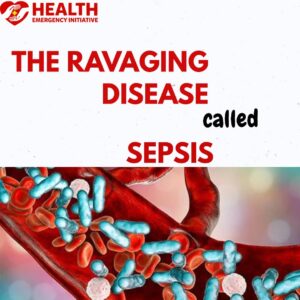 The spectrum of organisms that causes sepsis changes over time and varies from country to country and this is in turn due to local patterns of antibiotic used. While any type of infection, bacterial, viral or fungal can lead to sepsis, the most likely varieties include:
Pneumonia
Infection of the digestive system (which includes organs such as the stomach and colon)
Infection of the kidney, bladder, and other parts of the urinary system
Bloodstream infection (bacteria)
Treatment of Sepsis
Sepsis-related mortality is largely preventable with rational antimicrobial therapy and aggressive supportive care, such as;
Blood cultures: An efficient blood culture system requires competent laboratory scientists and facilities for standard aerobic and anaerobic cultures. They help to improve ability to detect patients with bacteria and sensitivity patterns in resource limited settings. Availability, accessibility and affordability of blood cultures are problems in many African countries.
Antibiotic administration: Prompt administration of antibiotics in severe sepsis and septic shock has been shown to reduce mortality. It is advocated that empiric antibiotics be given after blood cultures have been taken. Antibiotics can subsequently be rationalized based on blood culture results.
IV fluids: The aggressive use of IV fluids can decrease duration of hypoperfusion of vital organs ultimately resulting in less end-organ damage. Recent research suggests lower hospital mortality in patients who receive larger volumes of IV fluids within 3 hours of onset of sepsis. Interestingly, both groups survivors and patients received the same total amount of fluid in the first 6 hours. Therefore, timely fluid resuscitation within 3 hours of onset may increase survival. However, a recent report from sub-Saharan Africa calls for caution in applying this to children.
To address the challenge of sepsis in Africa, the following steps should be prioritized:
Awareness creation
Capacity building among health workers about sepsis and its management. An early recognition and management bundle for sepsis should be developed to reflect primary, secondary and tertiary level of care
Use of validated EWS and SIRS criteria to identify patients with sepsis;
Rapid administration of oxygen,
Intravenous fluids,
Antibiotics and measurement of fluid balance;
Lactate measurement and blood culture collection where possible.
According to HEI's record of medical interventions done so far, we have observed the high rate of diagnosis of sepsis in patients across different age ranges from 1 month old baby to young adults in their 20s and 30s. This is not a time to do nothing, join HEI now and let's NIP SEPSIS IN THE BUD with the code *402*82289909*AMOUNT# or click here.