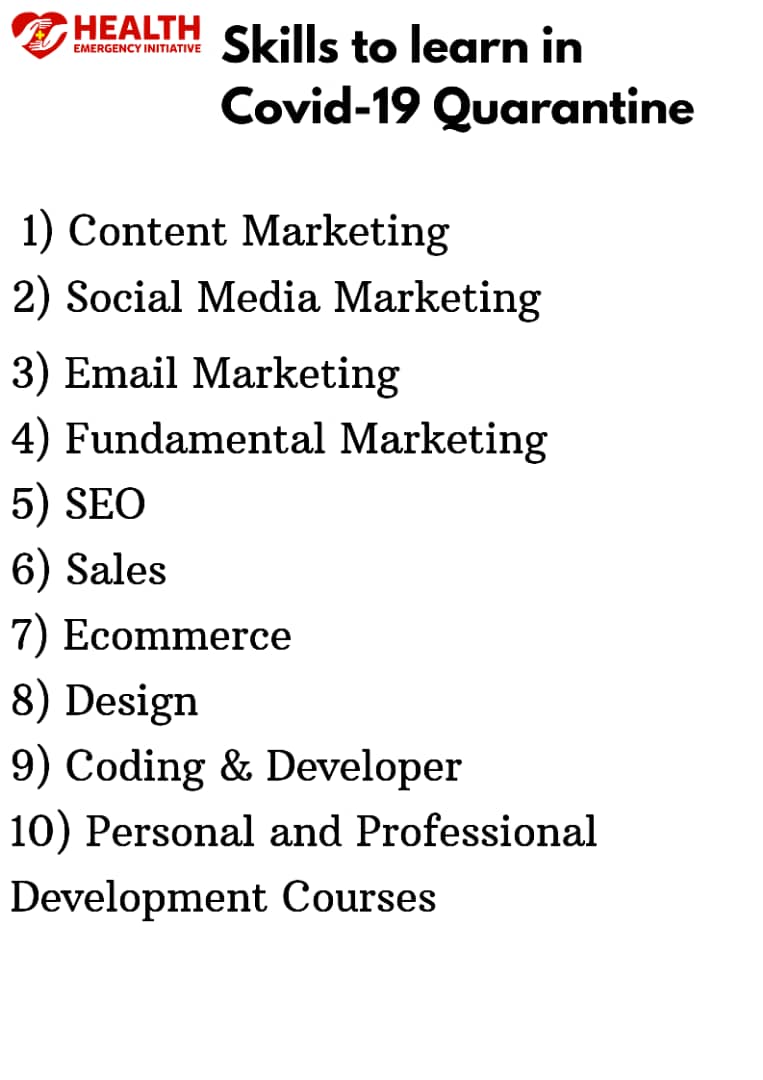 Lockdown has been extended and the quarantine continues. What are your quarantine lessons? Worrying about the ongoing covid-19 crisis can do little or nothing to make the situation better however we can look forward to the post-covid-19 world. As we look forward to a covid-19 free world, it's better to be adequately prepared for the demands it will bring.
While the health workers are at the frontline fighting the pandemic, you and I can maximise this stay-at-home-season by taking free online courses that will be relevant to the demands of the post covid-19 world. Here are some skills and the online free courses you can explore in this quarantine.
Skill 1: Content Marketing
You can learn how to maximise the power of content through these courses.
Skill 2: Social Media Marketing
Learn how to do more than likes, comment and repost with your social media accounts. Explore these free courses
Skill 3: Email Marketing
There's no underestimating of the power of Emails. Email marketing is a necessity to learn.
Cold Email Masterclass by Mailshake
Skill 4: Fundamental Marketing:
Learn how to attract leads, engaging prospects and delighting customers,
Google Analytics for Beginners by Google
Skill 5: SEO
Help your content to get to your target audience, learn SEO
Skill 6: Designs
Create your designs and communicate more attractively
Skill 7: Sales
Pursue your sales goals more effectively
Skill 8: Ecommerce
Learn how to find products you can sell and build your brand.
Skill 9: Coding &Developer
Online coding tutorials with easy-to-follow instructions, immediate feedback,
 Learn to Code by Codecademy
Machine Learning by Coursera
Skill 10: Personal and Professional Development Courses
Take strides to get your A-game on. These abilities will be a great boost for both your career and personal relationships.
HEI continues to faithfully commits to saving lives even in this trying time of global health crisis. You are welcome to support HEI in the provision of PPE for our health workers at the frontline fighting Covid-19