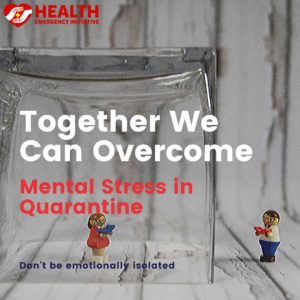 The mental stress caused as a result of COVID-19 quarantine can't be overlooked. The pandemic is having a stressful toll on people. The fears and anxiety of Covid-19 can be overwhelming. If not properly managed it can to lead to breakdown of mental wellness. Coping well with the stress will make you, your family and friends and your community stronger.
Here are ways to cope with mental stress in this quarantine
Take breaks from watching, reading, or listening to news stories, including social media. Hearing about the pandemic repeatedly can be upsetting.
Take care of your body.
Take deep breaths, stretch, or meditate.
Try to eat healthy, well-balanced meals.
Exercise regularly, get plenty of sleep
Avoid intake of alcohol and drugs
Make time to unwind. Try to do some other activities you enjoy.
Connect with others. Talk with people you trust about your concerns and how you are feeling.
Know and share the facts about COVID-19. Understanding the risk to yourself and people you care about can make an outbreak less stressful.
Your mental wellness is important at time like this. Deliberately make efforts to relieve yourself of mental stress that the Covid-19 quarantine may cause. More so, people with pre-existing mental health conditions should continue with their treatment and be aware of new or worsening symptoms.
We all have a responsibility to watch out for one another. Take care of yourself, your friends, and your family. Foster your virtual relationship with your loved ones and don't be emotionally isolated.
HEI loves you.