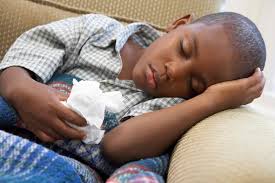 Mrs Frances came to the hospital with her seven years old son,George who was ill, she was told to bring N1500 for George's anti-tetanus treatment. The concerned mother said she didn't have the money and requested that her son should be allowed to stay in the hospital while she goes to source for the money, so the boy sat in the reception waiting for his mother.
Mrs Frances sells Akara (Beans Cake), she borrows N1000 per day to make her Akara for the day. After sales, she refunds the N1000 capital. She revolves around the cycle of borrow and refund of capital for herself and son's survival. So, when she was told to go and get N1500, she went to borrow N1000 as usual, made sales and waited till the next day to get another N1000 out of which she took N500 and added it to the previous day N1000 , she then rushed to the hospital. Getting to the hospital after 24 hours she didn't see her son where she left him rather she met her son's corpse.
Due to the unavailability of N1500 for quick treatment of anti-tetanus, the boy was neglected while waiting for the mother and by evening the tetanus infection had already spread through his body when a nurse noticed him, laying on the chair at the hospital's reception. He was rushed to the ward but it was too late as the boy died in less than 2 minutes afterwards.
George died because of the unavailability of N1500. Isn't this sad? Endeavour to live in the consciousness that your little acts of giving (money or time) can helping in saving lives and beautiful dreams. Hence, Health Emergency Initiative is totally committed to helping indigent patients. You can join us as we EMERGE in emergencies even in 2019 Global Giving Campaign or  donate / volunteer.  We look forward to saving more lives through your act of giving.