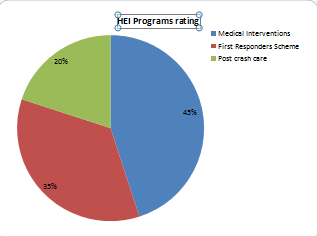 No thanks to failing systems, the past week witnessed some mishaps that led to needless deaths that could have been prevented or reduced.
This is heart-breaking because we work to prevent needless deaths and save lives. Knowing that those deaths could have been prevented in the presence of working systems in the county and where people see dangerous situations and are prompt to think of safety or how they can help victims involved instead of taking video recording of the unpleasant situations.
It also weighs the heart to hear the news of a young tech entrepreneur who was robbed and shot around Jibowu Lagos. Even though he was rushed to a nearby hospital, the promising young man died, no thanks to the prevalent failing systems in the country. This unpleasant happening still underscores the need for a truly efficient lifesaving health system.
As much as emergency occurrence can't always be prevented, we can mitigate the effects of emergency occurrence and this propels HEI to keep exploring options that are capable to save lives during emergencies. Hence, we have programs such as medical interventions for indigent patients, post-crash care and first responders training.
There is the need for working and efficient systems that enhance the preservation of lives. Or what is a nation that keeps losing her people that are meantto enrich her prosperity?
As a non-profit organisation that is committed to enhancing the effectiveness of Nigeria's health system, HEI keeps on providing medical interventions to as many indigent patients as possible. Presently, we have records of 586 indigent patients in public hospitals for the purpose of enhancing the emergency treatment of these patients and prevent the loss of lives and their beautiful dreams.
Just like HEI's Executive says 'Yesterday's survivor could be tomorrow's victim and today's victim could be tomorrow's survivor. We will not relent in the call for an inclusive health system where everyone is concerned and contributes to the effectiveness of Nigeria's health system.
 Let's do more medical interventions this year, let's provide post crash care to more accident/emergency victims, let's equip more people with lifesaving First Responder skills and provide personal protective equipment (PPEs) to more health workers in the battle against Covid-19. Support HEI in her lifesaving mission and let's be the light our world need. Use the USSD code 402*8228990988*Amount# or click here.