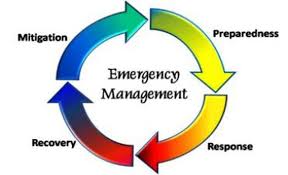 Emergency is any unplanned event that can cause deaths or significant injury to anyone.  It can disrupt, cause physical or environmental damage and financial threat to businesses. While emergency management is the discipline of dealing with and avoiding risks that could lead to damages, loss of lives and properties in any community.
It involves the dynamic processes of preparation, mitigation, response and recovery from an emergency. The goal of emergency management is to protect public health and safety; hence effective emergency managers are needed in every sphere of the community to help prevent losses of lives and valuables.
There are two types of Emergencies
Disaster Emergency
Non-Disaster Emergency
It is important to note that all disasters are emergencies but not all emergencies are disasters. Of course, emergencies include:
Wildfires
Floods
Hurricanes
Tornadoes
Winter Storms
Earthquakes
Communications, transportation and electricity failures
Civil disturbances, terrorism and war
Explosions
Domestic accidents
Road traffic accidents
Industrial accidents
The aforementioned are the different kind of emergencies that could happen, hence we provide you with the general principles that will help you to effectively manage these emergencies:
Mitigation: This involves taking preventive action before emergency occurs in order to reduce future human and financial consequences. It entails analyzing risks, reducing risks and insuring against risks. Mitigation is achieved through regulations, local ordinances, land use and building practices.
Preparation: This ensures that there is always a continuous cycle of planning, managing, organizing, training, executing and improving activities. This will help to ensure effective coordination and enhancement of capabilities of concerned organisations to prevent and protect against, respond to, recover from the effects of natural disasters and other man-made disasters.
Response: This includes the mobilization of the necessary emergency services and First Responders. This is determined by the type of emergency and also include vital emergency services such as fire fighters, police and ambulance crews. A well-rehearsed emergency plan makes rescue quick and effective.
Recovery: The purpose of recovery is to restore the affected areas/persons to their previous state before the emergency occurrence. Recovery efforts deal with issues and decisions that must be made after immediate needs are met. During recovery, efforts should be made towards quality restoration in order to reduce the risks of inherent re-occurrence of emergencies.
We all can be super heroes with adequate knowledge of emergency management that equips you to be proactive and save lives and properties during emergencies. In a progressive heroic feat, HEI commiserates with the victims of the Australian wildfire that has left 27 people dead nationwide with more than 2,000 homes damaged in the state of New South Wales alone. HEI in her sphere stays committed to bringing succour to emergency victims and help to save more lives.