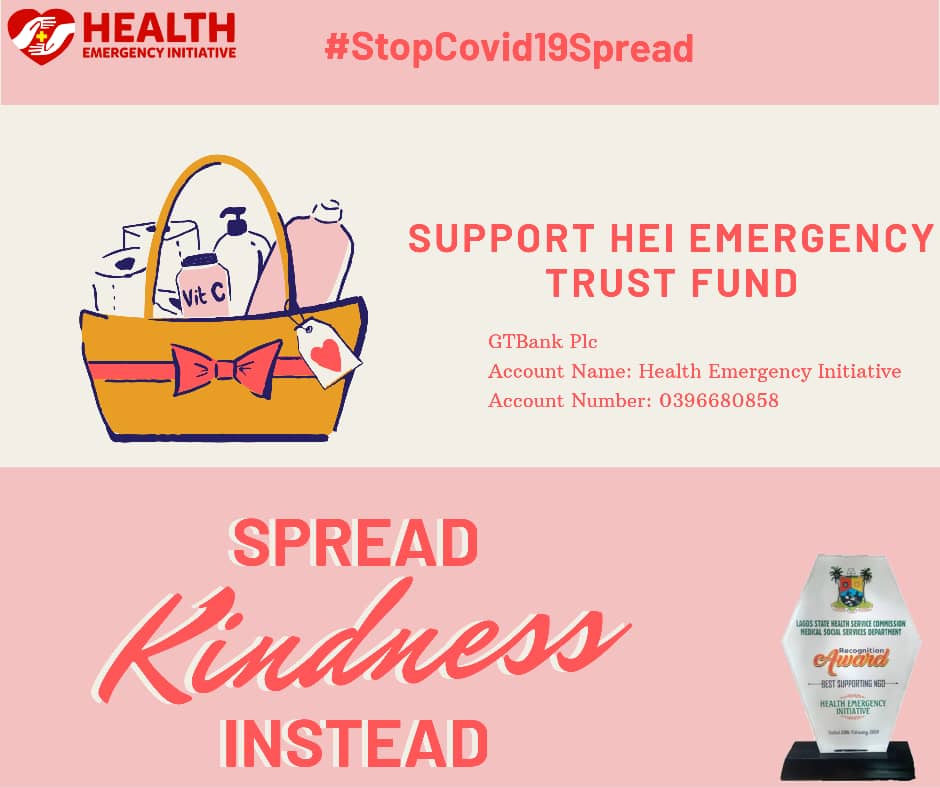 Covid-19, the global pandemic that is presently ravaging the human race does not exclude our nation Nigeria.  With a population of almost 190 million, our dear country is currently fighting this lethal epidemic in order to survive this season through social distancing.
Nigeria already has 90% of her population living below the global poverty index rate. This populace can hardly live without working daily, hoping that the next meal for survival will come following the day's work.
More so, Nigeria's healthcare system is fragile and the health workers need every help they can get to stay safe while they are trying to save other people's lives in this season. More than ever before, the Nigerian society is vulnerable to hunger and starvation while trying to prevent the spread of Covid-19.
This is that time to be our brother/sister's keeper. Health Emergency Initiative (HEI) launches a covid-19 emergency trust fund to providing medical kits, consumables, safety consumables and Personal Protective Equipment such as N95, Protective Gown, Surgical Mask, Hand Gloves, Hand sanitizers etc.
The emergency trust fund can also assist in the provision of ambulance services as the number of infected people begin to spike. In this time, dissemination of right information is vital so we would support community health workers who might be deployed to the rural areas in enlightening the people.
Support HEI in the goal of helping one another survive in this trying time.
Sterling Bank Plc
Account name: Health Emergency Initiative
Account Number: 0060048591
GTBank Plc
Account Name: Health Emergency Initiative
Account Number: 0396680858
HEI has in the last 5 years been working with FRSC, LASAMBUS, LASEMA, LUTH, LASUTH,  National Orthopaedic Hospital, Igbobi and Lagos State Ministry of Health  and over 25 public health institutions in Lagos. We have successfully provided live saving support for over 482 Indigent patients with Primary Health care cases as well as post-crash care for critically  injured accident victims.
In  recognition of this, the Lagos State Government through the Health Service Commission recently (February 28th 2020) recognized HEI as the BEST SUPPORTING NGO across the hospitals in the State.