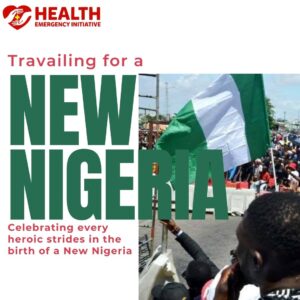 Travails of a nation, birthing a new Nigeria
How a peaceful protest turned out to be sabotaged and bloody is an event that remains stuck in Nigeria's history. Health Emergency Initiative (HEI) as a non-profit organisation that works and prays for the good of Nigeria and her people commiserates with individuals, organisation who had records of loss during this past week. We pray that the Lord restores to you in multiple folds, what you have lost.
Due to the prevalent unrest in the nation, there was little or no physical activity by the HEI team, but we worked behind the scenes providing help and rekindling people's hope to survive this period in our country. We got calls, DMs, mails from individuals in need of assistance either for themselves or for their loved ones. You are welcome to support HEI in helping others rise above the ashes, click here

On this note, we are excited to share with you the good news of Health Emergency Initiative's 5th anniversary of impactful presence and works as a non-profit organisation that is truly committed to saving lives.

We are thankful for the gift of every lifesaver. Thank you for walking with Health Emergency Initiative to save more lives, making the world a better place and being the reason someone's hope to live and smile is rekindled.

We recognise the fact that because you are walking with us in this lifesaving mission, HEI has been able to provide medical interventions to 435 indigent patients, 109 post-crash care to road accident victims, 209 First Responders have been trained and HEI is currently in partnership with 28 public hospitals. HEI as an organisation looks forward to doing more to saving and impacting lives.
You are always welcome to support HEI's lifesaving programmes and let's do more to saving lives. Click here to support.
Cheers to making the world a better place and God bless Nigeria!