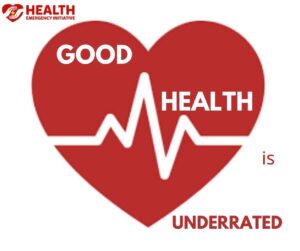 If you have ever had a challenge with your health or your loved one has, then you'll probably agree with the clause 'Good health is underrated' and you clearly recognise the value of perfect health.  In recent weeks, HEI had received numerous phone calls from different people about the need for financial assistance for medical treatment of themselves or loved ones.
Empathy is a major factor to responding to people in distress. It is the capacity to understand or feel what another person is experiencing and to respond to their thoughts and feelings with an appropriate emotion. Psychologists revealed that the absence of empathy which can be termed 'apathy' engenders lack of feeling, emotion, interest, or concern about something. It is a state of indifference. And of course, this is not a good place to be as apathetic individuals often lack a sense of purpose, worth, or meaning to life.
Health Emergency Initiative recognises that empathy is one of the main reasons that every lifesaving partner decides to walk with HEI to save more lives, to be the reason a lot of people's hope of living is rekindled and they have a reason to smile. We appreciate you and thankful for the gift of you.
As a purpose-driven non profit organisation, HEI operates with empathy to swiftly reach out to help victims of emergencies, save lives and fulfil her lifesaving mission. Some days ago, a couple of medical interventions were done by HEI and merely listening to the relieving feedback from the beneficiaries after the medical interventions had been done was overtly fulfilling to us.
These beneficiaries before the medical interventions by HEI were diagnosed with chronic leg ulcers and chronic anaemia respectively and they were practically writhing in pain almost giving up because they had no money to cater for their medical treatment.
Similarly, the NIP SEPSIS IN THE BUD campaign is still on and David's mother is still struggling to keep her son alive. Support HEI with your donation and let's rekindle David's hope of living and restoring the joy of a loving mother. Use the USSD code; *402*82289909*AMOUNT# or click here
HEI as a non-profit organisation that is duly registered and functional in Nigeria, we are not oblivious of the ongoing END SARS protest in the country and empathetically we pray for comfort to victims of the prevalent police brutality in our dear country Nigeria as we all travail in the birth of a new Nigeria.
Cheers to a new Nigeria and thank you for walking with HEI in empathy for the purpose of saving lives and impacting the world.