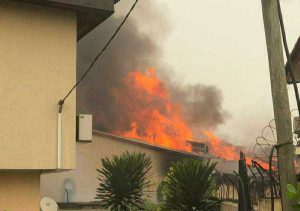 Have you ever been involved in a fire accident? Rather have you witnessed fire rage before? Then you are aware that fire emergency is no joke; the labour of donkey years can be devoured within minutes of fire emergency.
Last week Wednesday, 12th February 2020 there was a fire accident at Magodo, Lagos. The fire which started around 8am reportedly started from one of the rooms upstairs behind the landlord's duplex. The building was razed to the ground by the fire which lasted for two hours.
The cause of the fire was not known but there were video clips of people scampering around to help the shop owner in the building that was being gutted by fire to pack goods worth millions of Naira out of the shop before the fire gets downstairs where the shop was.
It's dry season, fire accidents are prone to happen in this time of the year. Hence, it is important you are well equipped with knowledge on what you can do during a fire accident to curb its spread or prevent further damage because every fire outbreak actually starts small.
First, get fire alarm in your premises. It's important to have enough smoke alarms in your home.  With today's modern furnishings, fires can spread much more rapidly than in the past when electrical gadgets were less used. Therefore, having a sufficient number of smoke alarms properly located is essential to maximize the amount of available escape time. It is required that smoke alarms should be installed in every sleeping room, outside each sleeping area and on every level of the home. If it's an office area or complex, there should be a fire alarm on every floor that is easily accessible.
When evacuating the building, be sure to feel doors for heat before opening them, so you can be sure that there is no fire danger on the other side that you are heading to.
If there is smoke/fire in the air, cover yourself with damp blankets, stay low to the ground, especially your head, to reduce inhalation exposure. Keep your hand on the wall to prevent disorientation and crawl to the nearest exit.
Once away and clear from the fire danger, call your remote emergency numbers and inform them of the fire. Lagos Emergency numbers 767 and 112, and FRSC number 122
Stay in your refuge area and await further instructions from emergency personnel.
Fire Safety Precautions and Fire Systems Equipment
Keep doorways, corridors and paths clear and unobstructed. Make sure that all electrical appliances and cords are in good condition. Do not overload electrical outlets. Use surge protected multi-outlet power strips and extension cords when necessary.
Never store flammable materials in your room or apartment.
Do not tamper with any fire system equipment such as smoke detectors, pull stations or fire extinguishers.
Raising a false alarm is a criminal offense. It endangers the lives of the occupants and emergency personnel.
Remember, SAFETY CONSCIOUSNESS is a way of life!
You are always welcome to EMERGE with HEI, support Project 1Million and help prevent needless of death as beautiful dreams are being preserved.