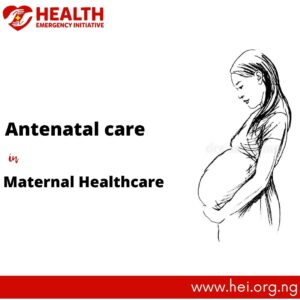 Antenatal in maternal healthcare
A woman lost one of her twins, and also had to battle for her own life after giving herself over to traditional birth attendants- people who may be 'experienced' but yet do not have the necessary skilled set. What an irony! There have been so many needless deaths stemming from people's ignorance and obstinate attitude to taking the right path or course for their health and their babies.
Over the years, infant and maternal health cases have constituted 45% of Health Emergency Initiative(HEI)'s medical interventions, thereby saving the lives of hundred of people. In a population like Nigeria, the importance of effective infants and maternal healthcare cannot be overemphasized, hence antenatal care cannot be undermined.
What exactly is antenatal care? Appointments during pregnancy, simply put antenatal care is a means to identify high-risk pregnancies and educate women so that they might experience a healthier delivery and outcome. Once your pregnancy has been confirmed, it is of necessity that you see your general practitioner doctor or midwife as soon as possible to schedule your appointments. 
Why go for antenatal appointments?
Antenatal appointments allow for your doctor or people in your healthcare team to help both you and your baby stay healthy. That your pregnancy looks to be going well or is going well is not a justification to shun your appointments. This allows for potential risks to be identified, prevented, or reduced. An antenatal appointment is an identified means to talk with your doctor and ask any questions about your pregnancy, including what goes on in each trimester. It also provides you with the necessary support to help your lifestyle, mental health, and even dietary advice.
And asides from having checks, scans, tests, and discussions involving medical history, medications, discussions on depression and anxiety if any, healthy eating, amongst others, there is a striking feature of antenatal called Antenatal classes.
Antenatal class also called birth and parenting class or parent craft class helps you to prepare for your baby's birth, giving you the confidence and every information you need. It helps you and your partner to get ready for labor, birth, breastfeeding, and care for the newborn.
The class teaches you the following:
How to prepare for labor,
Signs of labor and when to call the hospital,
Different stages of labor,
Different birthing positions,
Relaxation and breathing skills to use during labor
Early parenting
Breastfeeding, and
Newborn baby behavior.
You also have the opportunity to meet a group of parents expecting a baby like you.
Knowledge and know-how of attending to your baby cannot be derived or better still taught by traditional birth attendants. If there be any knowledge, assuredly, it is an infinitesimal one.
Do not put your life or that of your baby's at risk. Once your pregnancy has been confirmed, get booked in a registered government or private hospital and educate others on the essence of antenatal care.
You are also welcome to support HEI's medical intervention for infant and maternal healthcare by subscribing to HEI's donation plan;