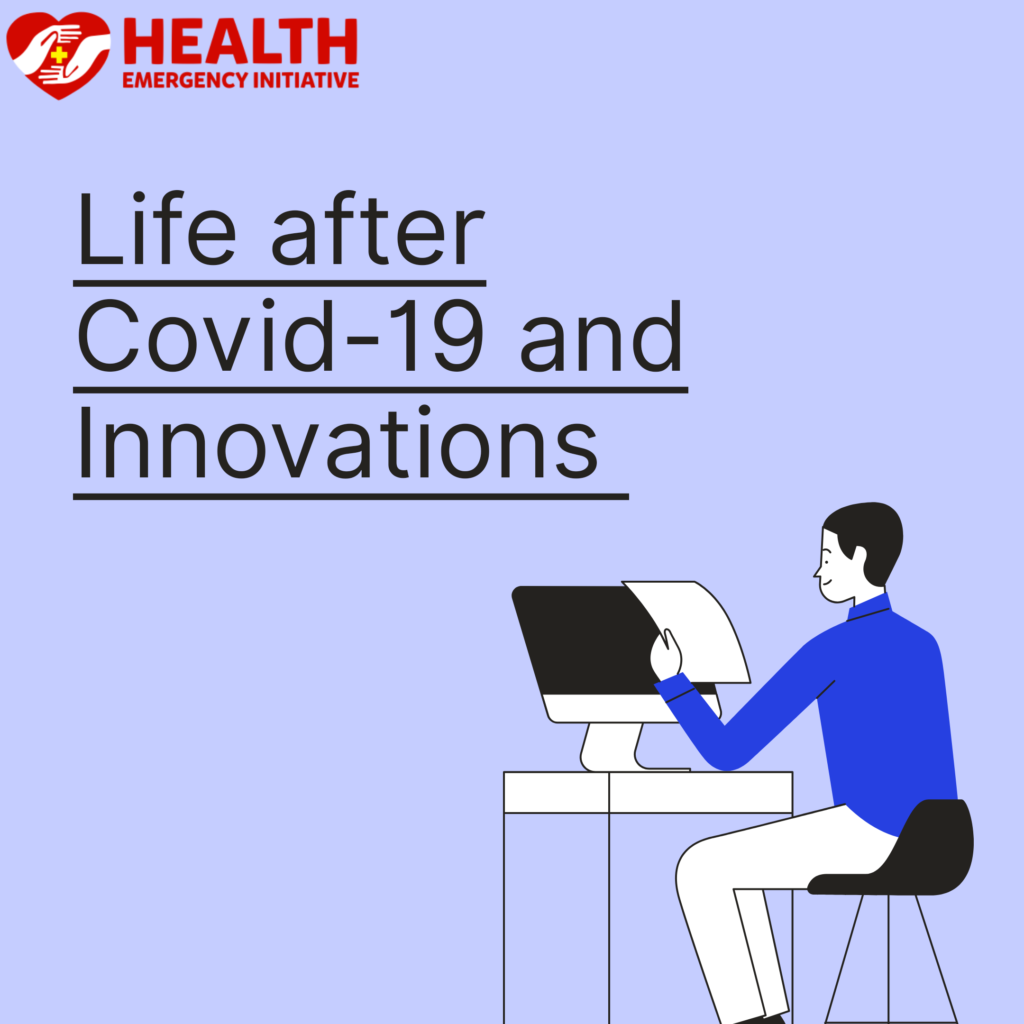 Life after Covid-19 is no longer a futuristic statement, it is here with us. It is the new normal.
In a time like this, we should ensure that the economy does not die hence, it is important to maintain sustainability of programmes and employ innovation. The humanitarian space requires diverse skills such as interpersonal diplomacy, negotiation skills, and presently the use of data is needed to identify issues that needs funding.
This is the time to maximally use technology to drive innovations for effectiveness of business processes even as the battle against Covid-19 continues. There is a need to change business modules, thinking patterns, and foster collaborations between companies to achieve more.
Specific Innovations that can be employed during the Covid-19 period.
Planning: Plan how you can be effective during Covid-19. Create a transitioning plan of programmes from physical engagement to remote working.
Advocacy: Map out an effective social media strategy into reaching out to people to do advocacy. Meanwhile, effective use of social media to implement advocacy can help to save cost of programme's implementation. There is a new normal so it's time to think outside the box.
Also, you can make use of focus group discussions to implement programmes and engagement by proxy, i.e engage individuals who live in your programme-focus community instead of spending money for transportation and save cost.
Different Opportunities that can be Explored in this Season
Have a clear analysis of what you want to do in Covid-19 and post Covid-19 season.
Move your systems online
Pick up skills such as sales skill, businesses development skills for start-ups, strategy skills, computer programming, marketing skills, and financial skills etc that are relevant in this time to survive and thrive.
Technology: Explore technological and online tools. Analyse things, situations and identify opportunities that can thrive in this season. You can make a career out of it and stay relevant in Covid-19 and post Covid-19 season.
The agriculture industry: Production sector, Distribution sector and Consultancy because there is a need to repackage ideas and make it sellable to the target audience.
NGOs might experience some difficulties in this time but it is not the end. There could be temporary closure of some programmes because the major thing here is sustainability. This necessitates the uniqueness of the NGOs' programmes that can thrive without overt financial reliance on funders.
For instance, the entrepreneurs in the real estate sector can thrive in this Covid-19 by exploring
Leads generation:This can change your social media strategy, use the right social media platforms e,g explore your LinkedIn network, change your tactics of how you communicate with people online.
Due to Covid-19, movement is restricted hence you can use camera-360 to project your properties to your clients. Give your clients full and quality view of pictures and videos. Have good and effective landing pages.
Checklist to thrive in this Covid-19 season
Know what you are best skilled at. Invest your strength in what you can do best without pressure
Feasibility of funding sources
Resource leverage
Environment/clientele base
Embrace failures to encourage you to keep going
Explore technological solutions for education sector: Use of mass media, radio as a means of teaching students. Do voice-over of the curriculum and teach on the radio station, TV station for broadcast. Homeschooling by parents.
Convert your skills to trainings: Practice using yourself and engage in home delivery of services and maximise online, social media tools such as WhatsApp, Instagram, video apps etc,host webinars to advertise your services. Packaging your products attractively well.
The outbreak of Covid-19 should teach you that there is no time to postpone things, whatever you want to do, do it now. Do what you know what you know how to do best and explore the innovations of this time.
In whatever you do, consistency and quality of services will give you an edge to thrive in this covid-19 season. Don't dwell on Covid-19, think more on how you serve humanity and this will help you proffer solutions to issues. Know that no matter how long this phase is it will surely pass.
Platforms to get remote jobs are ng.indeed.com, ng. jooble.org
P.s: This blog post is an excerpt of knowledge shared by Ude Chinasa, Communication and Content Development Expert and Peter Enimil CEO 233 Developers LLC (USA&Ghana) in a webianr session hosted by HEI