The ultimate goal of the Health Emergency Initiative is to provide emergency victims with lifesaving assistance.
As a result, we actively engaged in the following services: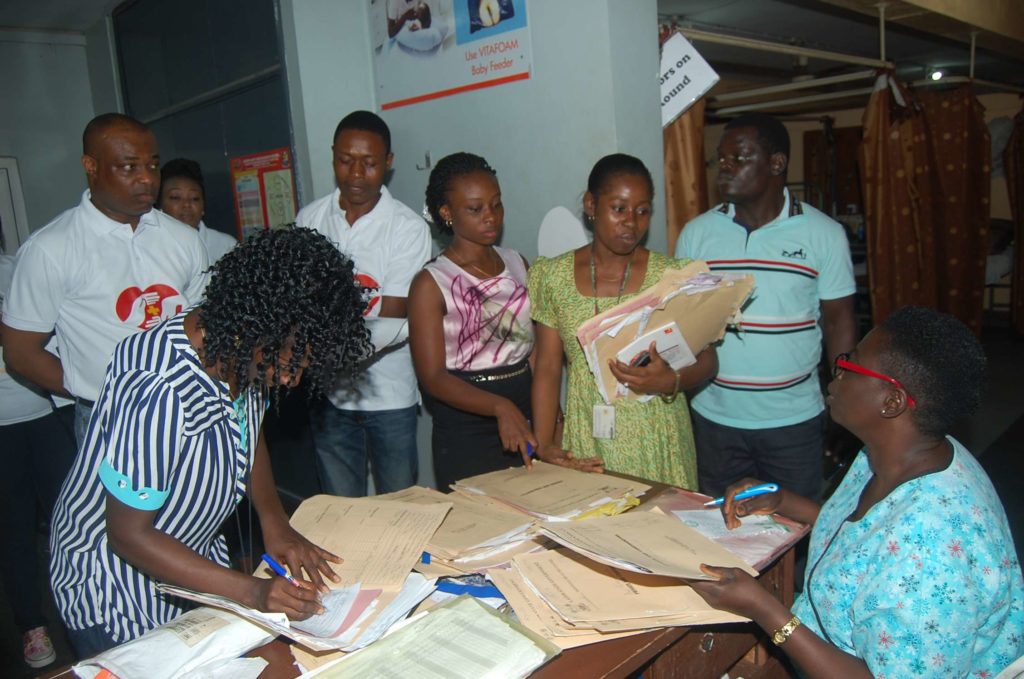 Our medical intervention program seeks to reduce mortalities rising from the widespread poverty and destitution in Nigeria. Many segments of the population are under this menace resulting in avoidable deaths. We pay hospital bills of indigent accident victims nationwide, within 24 hrs of notification.
This platform is to help stabilize injured accident victims, who could have been turned away by hospitals for financial reasons. We Identify and assist indigent patients (including pregnant women) who are unable to foot their medical bills before and after they have been treated (medical detention). This may involve paying part or all of the bills
In the medium to long term, we collaborate with hospitals, clinics, and maternity homes etc to ensure health emergency issues are not arbitrarily turned down without recourse to HEI provided the patient/victim is not associated with criminality, deception or cheating.
HEI is unique because our processes are transparent and our programs are credible. This has earned us the trust of individuals and corporate organizations who have supported HEI's lifesaving programs as we forge ahead to saving more lives and their beautiful dreams.
Road traffic accident has been identified by WHO as the highest killer of young people and 65% of Nigeria's population is made up of youth. In the quest of fulfilling the HEI Mission THAT NONE SHOULD DIE Health Emergency Initiative(HEI) provides pre-hospital care to road traffic emergency victims.
We collaborate with FRSC officials and other emergency agencies to save more lives by swiftly providing financial assistance to road traffic accidents victims.
HEI has an ADVOCACY PROGRAM which SEEK TO:
Collaborate with relevant stakeholders to influence legislation and policies to ensure the indigent and vulnerable have access to affordable and free healthcare.
Collate, maintain and provide periodic health related data to the public with a view to curtailing, minimizing and eradicating careless deaths arising from emergencies.
Grant access to members of the public information on Health related literature towards disease prevention and eradication.
Ensure reliable statistics on accident-related cases are maintained and shared with relevant stakeholders.
3. FIRST RESPONDERS TRAINING SCHEME
To address the public apathy in pre-hospital emergency care and stimulate public interest, Health Emergency Initiative proposes a First Responders (FRs) Scheme to create a community/network of volunteers trained to attend to certain kinds of emergencies and provide the right care at the right time with the right skills.
The first response is the immediate treatment or care given to someone suffering from an injury or illness until more advanced care is accessed or they recover. The provision of prompt and appropriate first aid or Cardiac Pulmonary Resuscitation can reduce the severity of an injury or illness; and in extreme cases, could mean the difference between life and death.
HEI advocates for safer roads in Nigeria especially through partnerships with the FRSC through campaigns, workshops, trainings, and other initiatives.
We are particularly focused to improve the health of communities. We particularly focus on maternal and child health.
Outreach programs centred on the educational development and rehabilitation of indigent children and youths.
This how best we respond to health emergencies to the indigents in Nigeria.
Would you like to be a part of us? Use the link here to join us today.