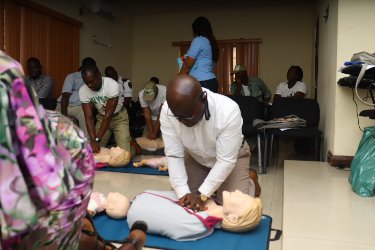 First Response and it's importance
I tried persuading Enitan to get trained as a First responder. At first she declined, but because I have been trained and now have a full understanding of the essence of first response, I continued to press in. And after so many attempts, Enitan finally gave in to my plea. I am glad she made the decision to get trained, if not she would have lost her cherished neighbor who suddenly had a heart attack, shortly after he came in from work.
One! Two! Three! Four! Five! Enitan pressed in on the chest of the 40 year old man, performing cardiopulmonary resuscitation. Her other neighbors who were available put a call through to an emergency medical service. While they were waiting, Enitan gave her best, alas, his eyes opened faintly. Is this how people die? One of them asked in a bewildered tone. While they were happy that their neighbor had opened his eyes, the emergency medical service came in to intervene, and took him to the hospital.
Oh my goodness! So he would have died if there was no first responder close by? If that is your question, I am sure you have your answer now. Ok, let me not assume you know it. So here is it. In cases of emergency, a shorter lag-time increase survival chances. While they were waiting for a professional/advanced medical intervention, Enitan who happens to be a first responder provided IMMEDIATE medical care. Apparently, this was what saved her 40- year old neighbor.
The people at the center of public health are our first responders: our frontline workers, healthcare professionals, social workers and caregivers. First responders are the individuals who respond to emergency situations in order to provide assistance.
First response primarily involves first aid. It is the first and immediate assistance given to any person suffering from either a minor or serious illness or injury, with care provided to preserve life, prevent the condition from worsening, or to promote recovery. It includes initial intervention in a serious condition prior to professional medical help being available, such as performing cardiopulmonary resuscitation (CPR) while waiting for an ambulance, as well as the complete treatment of minor conditions, such as applying a plaster to a cut.
The primary goal of first response is to prevent death where possible, and also to prevent injury cases from worsening. The key aims of first response are as follows:
Preserve life: The overriding aim of all medical care which includes first aid, is to save lives and minimize the threat of death. First aid done correctly should help reduce the patient's level of pain and calm them down during the evaluation and treatment process.
Prevent further harm: Prevention of further harm includes addressing both external factors, such as moving a patient away from any cause of harm, and applying first aid techniques to prevent worsening of the condition, such as applying pressure to stop a bleed becoming dangerous.
Promote recovery: First aid also involves trying to start the recovery process from the illness or injury, and in some cases might involve completing a treatment, such as in the case of applying a plaster to a small wound.
Learn to save a life, sign up to HEI's First Responders' training. Make a call/chat to 07063985777 or send email to info@hei.org.ng