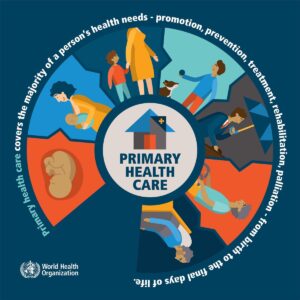 Primary healthcare systems in Nigeria
Iya Gbenro who was pregnant for her second child had complicated labor in the middle of the night. She lived in a village in Ile-Ife that was not less than 30km to Ondo town. On that cold night, she was with a traditional birth attendant, and after so much back and forth, the complications became intense. She needed professional help, sadly there was no village health post, or primary health center close by. Ouch! "Please take me to the hospital, she cried in an agonizing tone". Painfully, the only location where she could access the much-needed medical expertise was about 5 hours away, coupled with a problem of a poor road network. She tried to stay alive for her family, but she could not make it.
This incident places more emphasis on the need for creating accessible medical attention, and also equipping the few we have in our home country. To avoid repetition of such cases as Iya Gbenro's, what can be done? Or better put, what system can be carefully crafted to reduce such mortalities? The answer is simple. What we need is a 'working' PHC built by all standards. Do you know the essence of a primary health care? Your answer is No. then we should consider this…
WHO describes primary healthcare as a whole of society approach to health and well-being centered on the needs and preferences of individuals, families, and communities. Consequently, an ideal PHC should be acceptable, accessible, one in which the community can fully participate, and affordable through self-reliance and self-determination. The problem of inaccessibility and lack of community participation majorly contributed to the demise of the said pregnant woman.
In Nigeria, the advent and progression of Public health services could be traced to three distinct periods namely: Pre-colonial, Colonial, and Post-colonial eras. The first era was characterized by traditional medical practices in a larger part of the country. Following the first era, the missionary groups arranged for skeletal medical services, after which during the Post-colonial era, there was a formal adoption of colonial medical services. Over the decades, the Nigerian Public health system has been faced with numerous challenges and innovations with policies put in place to transform the entire sector for national growth.
By all standards, PHC is said to be the cornerstone of health policy in Nigeria and should be the first point of contact with the health care system. It is the level at which short-term, uncomplicated health issues should be resolved. It is also the level at which health promotion and education efforts are undertaken, and where patients in need of more specialized services are connected with secondary care. In Nigeria, PHC was formally referred to as Comprehensive health care and/or Model Primary health care.
Several attempts have been made to set standards for PHC in Nigeria from the Basic Health Service Scheme (BHSS) of 1975-1980 to the current Ward Health Systems. And going by the minimum standards of primary healthcare put forward by the National Primary Health Care Development Agency, it is expected that the primary healthcare is managed by the Local Government, (although can be owned by profit organizations or not-for-profit organizations) 1 per ward, with an average of 10 wards per LGA, a total of 7,740 will be expected. However sadly, we are living beyond that expectation.
The core of a PHC system stretches from its elements, principles, activities, outcomes, and basic requirements. There are eight (8) elements of PHC, and these provide education about prevailing health problems and how to prevent and control them
Food supply and proper nutrition,
Provision of essential drugs,
Prevention and control of endemic diseases,
Maternal and child health,
Family planning,
Immunization against infectious diseases,
Treatment of common infections,
Adequate supply of water and basic sanitation.
The 10 activities of an ideal PHC are
Safe water & sanitation
Food supply & proper nutrition,
Mother & child health,
Immunization,
Prevention & control of endemics,
Education,
Treatment of diseases & injuries,
Training and/or up-skilling of staff,
Lab services and essential drugs,
Referral.
The principles by which a PHC system should operate on are
Equitable distribution,
Community participation,
Intersectoral coordination,
Appropriate technology.
Also, the markers that qualify a PHC to be sound includes
Appropriateness,
Availability,
Adequacy,
Accessibility, a
Acceptability,
Affordability,
Accountability,
Completeness,
Continuity,
Comprehensiveness.
Going further, every system is driven by a vision and a goal, and as such there should be expected outcomes. In other words, the outcomes that an ideal PHC should deliver are thus-
Reduction of mortality amongst vulnerable population group,
Reduction of risk factors,
Development of sustainable health systems,
Development of enabling policies.
Having considered all these, we would agree to the fact that people die every day from minor causes that shouldn't have led to death if we have the right system in place. All over the world the need for PHC is being established and there is a call-to-action, on the part of every sector of society. With the necessary systems in place, there would be excellent outcomes, prevention of delay, and unwarranted mortalities would be checked.
Health Emergency Initiative (HEI) as an NGO advocates for effective primary healthcare systems as we work to provide more medical interventions to patients in public hospitals diagnosed with primary health cases. Join us to prevent needless deaths, save more lives and their beautiful dreams.